Here's a pretty reliable rule of thumb: when Jonathan Krause says he has a "simple solution," the problem is almost certainly more complicated than Krause is capable of fathoming and his proposal will have negligible impact. Case in point:
his laughable suggestion
that cutting down on take-out and, I don't know, choosing to stay home and masturbate instead of going to the movies will solve the expanding student loan problem in this country.
To begin with he seems to be under the impression that college student are so flush with cash that they have the financial means to buy cars that "will make [one's] co-workers jealous" and spring for lavish long weekends in Vegas, which is patently absurd for the typical college student. It's patently absurd for most recent college grads precisely because they're working off student loan debt. Usually this gets worse during downturns in the economy when hiring is frozen and underemployment is rampant.
What Krause doesn't understand is that the profligate extracurricular spending of students actually has little to do with the explosion in student loans during the last decade, as
the chart
below explains:
The problem isn't video games, cheeseburgers and orgies in Vegas, as Krause seems to think. It's the cost of tuition, which has been exploding at
a rate that's far outpacing wages
:
So why is this happening? First off, more people than ever are going to college these days. That's a good thing, but it does come unintended consequences, and one of those is that there's a lot of demand for "good" schools. That means colleges and universities are free to hike up the cost, which is important because most public schools are not getting the funding they once enjoyed, but which are still under immense pressure to demonstrate value for tax-payers' investment.
Part of demonstrating that value is attracting top-notch students and most college administrators have determined that 18 years kids are fairly susceptible to bells and whistles like
flashy new buildings
. We've seen that here at UW-O, which seems to have constructed more new buildings in the last ten years than it had in many decades prior. Then there's the phenomenon one author calls the "
prestige racket
," wherein "good" schools try to enter the ranks of "elite" schools simply by increasing the cost of their education product. Yet another element is the growth of for-profit schools which increasingly gobbling up a good chunk of
the total student loan pie
: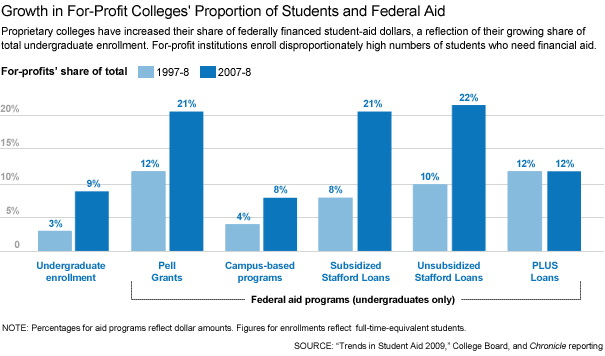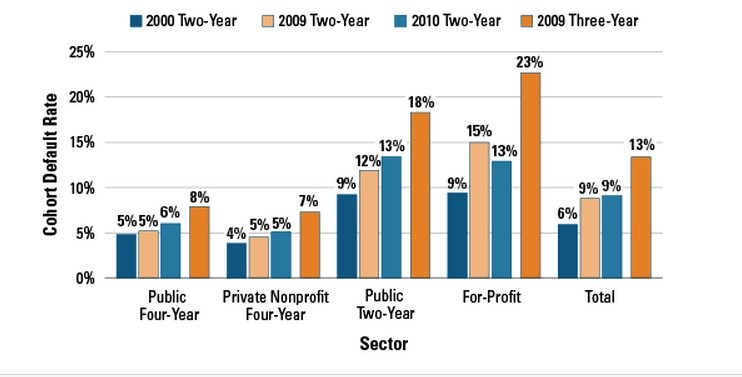 We could on and on with examples -- the fact of the matter is that the student loan bubble is anything but a problem with a "simple solution." The fact of the matter is that a college education is not what it used to be. The value of a college degree has declined while the cost of a diploma has blown up. This is a systemic problem that calls for solutions far more comprehensive and complex than "find a roommate on Craigslist."
People who went to college in the 60's, 70's and 80's enjoyed a far less expensive education than college students do today, and by just about every measure. It's not unreasonable for the kids who are picking up the bill today to be a bit resentful of older generations that got inexpensive degrees, but now don't want to pass on the savings to their kids. To condescendingly demand people with outstanding student loans continue a diet of Ramen noodles for
sometimes decades
after they leave school betrays an utter lack of understanding of the problem altogether.